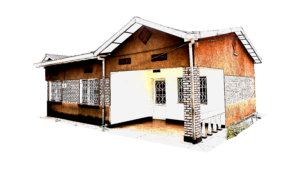 The RVCP House is situated in Huye City, 10 – 15 Mins walking distance from the Butare Teaching Hospital and is right in the city center.
It is a 3 Bed-Room house that provides comfort and security.  Hot water, Kitchen, Shared Bathroom and Twin beds in the rooms.
The proceeds from the house rent cover the costs associated to the house and 40% goes into funding RVCP projects and initiatives in the Village.
For more information contact rvcp_coordinator@yahoo.com