SUD project (student uniform distribution) is a new project initiated by RVCP with the aim of providing school uniforms to under privileged students. The project was initiated after recognizing that some students especially those of primary school can't afford the school uniforms due to many issues mainly poverty in the family and result in leaving school due to this problem.
The project is mainly sponsored by Mr.Sy Frithjof from Germany who came to realize the need of impacting positively to the community and raise the living of underprivileged as it complies with Rwanda Village Concept Project mission(RVCP) at  Rukira Primary School, Huye District, Southern Province of Rwanda.
It was in September 2017 when Mr.Sy Frithjof came to Rwanda to conduct his clinical internship in Mibirizi Hospital, Rusizi District in Western Province of Rwanda.
He is the pioneer of this project and the entire RVCP and the community have to recognize this stupendous deed done by him. The project is still sponsored by him. RVCP has good relations with international participants coming to Rwanda through student exchange programs and volunteering activities.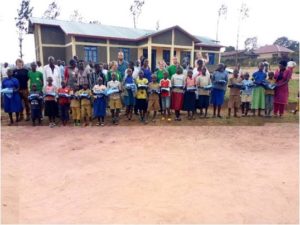 20 pupils got uniforms( boys and girls) at first round when launching SUD-project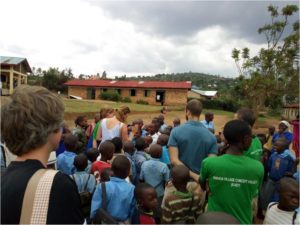 At Rukira primary school  Mr.Sy Frithjof  at left and RVCP coordinator MASHYAKA Emmanuel at Right side and other International participants with students.
In RVCP the gates are open to every one who has an idea or project aimed to promote well being of underprivileged people.