A more than 20 trainees were gathered in UR-Huye Campus at Faculty of medicine for 1 day during the Adobe Photoshop Training held on Sunday 26th May 2019. The Training was organized by Rwanda Village Community Promoters (RVCP) through its office (the Publication and communication Office) in partnership with Like a Doctor Photography.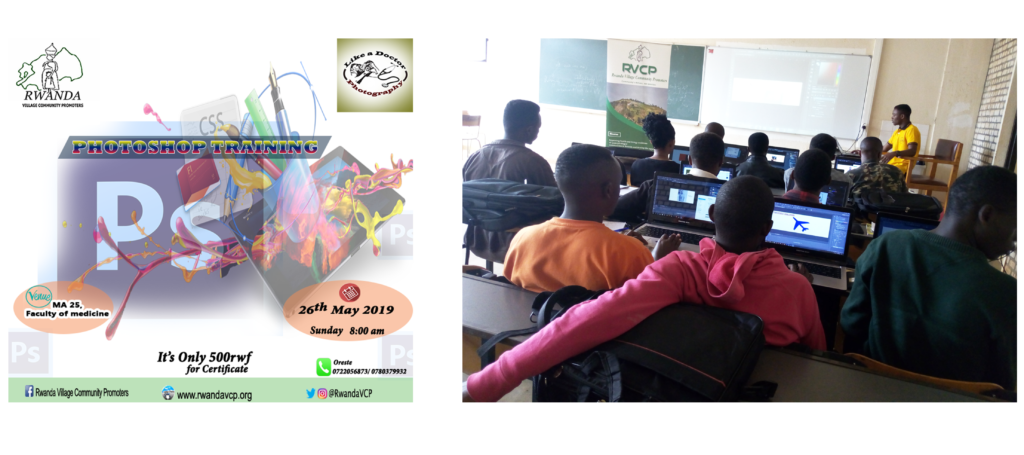 Rwanda Village Community Promoters is aimed at community development and capacity building of students involved in its activities. It is in this regards RVCP through the publication and communication officer partnership with Like a Doctor Photography organized this training. The training was not just only limited to the RVCP members but also open to all other students who were interested in mastering the Adobe Photoshop skills. In Adobe Photoshop, one is able to design different things like Logos, Banners, Posters, Flyers and even Save the Date. "Even if it was a tough course, it was very interesting and we have to practice more and more for better mastering." Said Frodette, one of the trainees.
In his closing remark, Oreste Hafashimana, PCO at RVCP and Trainer of this training, appreciated RVCP and Like a Doctor Photography for preparing this impactful training and thanked the ones who managed to attend the training. He also highlighted on different stunning upcoming activities that RVCP and Like a Doctor Photography are preparing.