A total of 200 delegates were gathered in UR-college of Business and Economics for 2 days during the First Youth for Village Conference 2018 YVC2018 held on Saturday 15th December 2018 around the theme "youth engagement in grassroots community development towards SDGs 2030". The Conference was organized by Rwanda Village Community Promoters (RVCP) and hosted by the University of Rwanda College of Business and Economics. In his opening remarks, Prof. Phillip Cotton, UR Vice Chancellor, appreciated the initiative of the young students of the University of Rwanda who thought and prepared the conference. He also thanked the general delegates who took their time and attended this tremendous conference. He highlighted the efforts being done by the students in making the University of Rwanda internationally competitive in research and education.
Professors, Medical doctors, and other different speakers attended the conference. All speakers discussed different topics in different plenary sessions of the conference.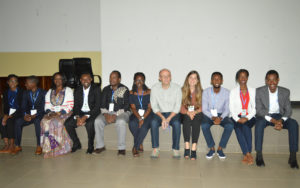 Distinguished speakers
Medical doctor and Lecturer in University of Rwanda, Dr. Richard Nduwayezu, talked about how we can protect and prevent youth from new HIV/AIDS infection. "There are many issues that could make people to be infected by HIV/AIDS, especially for youth like social determinant of life as poverty that may cause youth changing behaviors to intervene in sexual activities and unsafe sex, whether no enough access for the young people in reducing and protecting the risks against HIV infection. In universities, we do not only teaching but also we give them information that could help youth to protect and prevent any disease and go away from what could affect their life like prostitution and drugs." Dr. Richard said.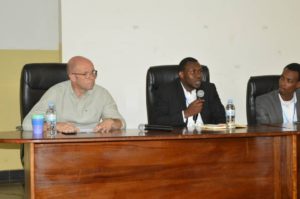 Dr. Richard Nduwayezu, talking about how to protect and prevent youth from new HIV/AIDS infection.
About "Youth engagement in community development through volunteerism and extracurricular activities" as one of the plenary session topics, Prof. Philip Cotton UR Vice-Chancellor said that students should engage in extracurricular activities like joining and volunteering in particular organizations but the most important is the outcome and impact of students to the community in general.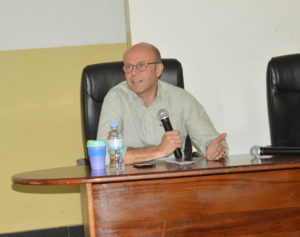 Prof. Philip Cotton, UR Vice Chancellor saying that students should engage in extracurricular activities
The participants were coming from the different campus of University of Rwanda like Huye, Nyagatare, Busogo, Nyarugenge and Remera, and others were from other universities including internationals. On the second day of the conference, the participants celebrated the annual event prepared by Rwanda Village Community Promoters (RVCP) called "Pediatric Christmas Event 2018". The event was celebrated at CHUK and Kibagabaga Hospitals. Where they visited and gave Christmas gifts to the sick children in these hospitals.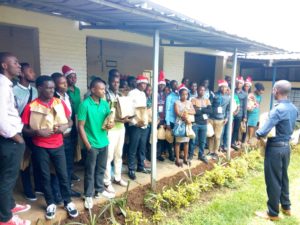 Pediatric Christmas Event 2018 at CHUK-Kigali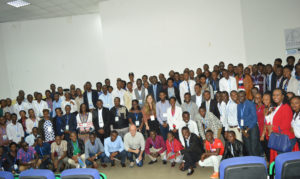 Participant's group photo
Briefly, Rwanda Village Community Promoters (RVCP) is a non-profit, non-governmental, voluntary youth-led organization hosted by the University of Rwanda. It aims to improve the living standard of the underprivileged people and capacitate the students' volunteers.
We have more than eighteen years impacting community through different community activities, helping them to create income-generating activities to serve their families, health education, power supply modern agricultural best practices that are climate resilient, hygiene and water sanitation interventions to vulnerable people as well as women and girls empowerment Just to name but a few.
RVCP was founded in 1998 by students at former National University of Rwanda (NUR) Butare, Following the 1994 genocide, in which more than 1,000,000 people were killed in three months, villages and towns demolished and the intervention was to contribute to peaceful coexistence and social economic empowerment.
Working with students and local volunteers is a key part of the foundation upon which RVCP was built as it strives to increase awareness and develop students' problem-solving skills, aptitude for fieldwork and project planning abilities. Furthermore, RVCP fosters an atmosphere of cultural exchange and skill sharing by working alongside international volunteers.