Every year, RVCP members vote for a new committee. After the elections held on 10th -11st, November 2017, the elected leaders have got the opportunity to be trained, inspired, shared experience/challenges thanks to the close collaboration of the outgoing leaders during the transitional period.
25th February 2018, RVCP held its official handover at HUYE campus.
On that day, participants were around 35 in number comprising: members of the outgoing committee, the elected committee, Dr. Hovaire, Mr. Léonard and delegates representing other associations of the campus.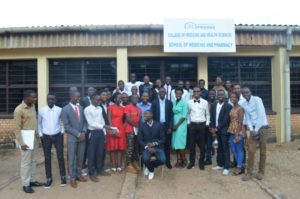 RVCP members,new committe and outgoing committe
The event started with speech and welcoming note where the outgoing RVCP coordinator, MIHIGO Bonaventure took his time to give thanks to the outgoing committee, partners and all people who participated in handover. He also presented what his committee has managed to achieve and encouraged the new elected committee to achieve more.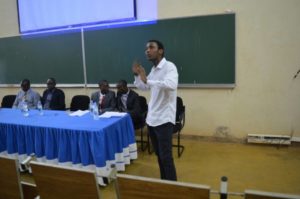 RVCP former coordinator, MIHIGO Bonaventure
The event proceeded with swearing of the new committee respectively the executive board, program directors and the supervising council (conflict resolution and auditing committee) and they were helped by outgoing president of supervising council, Sylvester KARARA.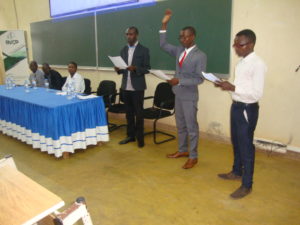 Swearing of new committe
On behalf of the RVCP alumni, Dr. Hovaire NSABIMANA shared his experience in RVCP and how RVCP equipped him with great skills. He also encouraged RVCP members to keep high the spirit of volunteerism and the love for the community.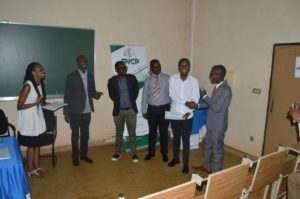 Dr Hovaire NSABIMANA
Mr. Leonard Ndayishimiye, coordinator of LLCCM (Let Little Children Come to Me), in his speech acknowledged the role played by all past RVCP leaders for the productive partnership between RVCP and LLCCM and assured his help for more projects.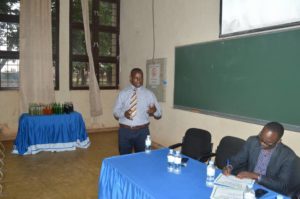 Mr.Leonard NDAYISHIMIYE
After a year of service for RVCP and many great achievements, the outgoing committee members have been certified as a sign of gratitude of their work.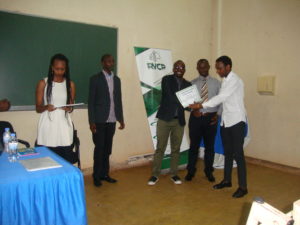 To close this ceremony, the new RVCP coordinator, MASHYAKA Emmanuel delivered a speech to thank partners, alumni and the outgoing committee for their great contribution and support to RVCP.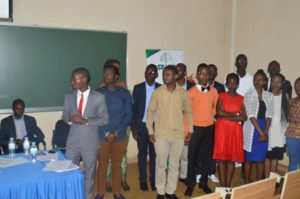 RVCP New Leader, MASHYAKA Emmanuel
He also assured his commitment to fulfill what they vowed with his team. To do so, some changes have been made, the Malaria Prevention program became Maternal Health program and creation of a new post, the Capacity Building Officer. Last but not the least, the Supervising Council split into Conflict Resolution Committee and Audit Committee.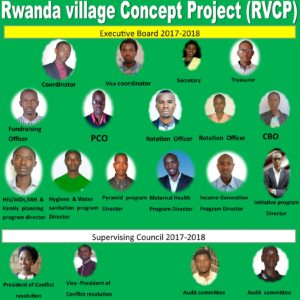 Ingoing committe
A cocktail was  shared while networking.
                                             RVCP-Media